Full of Beans – 8 Fun Sensory Activities for the Bean Box
The bean box continues to be on of our favorite sensory activities.  Sometimes when my four year old is out of sorts I get it down and just start playing in it myself so that he'll join me in this sensory play and be able to calm down. Originally posted Jan 28, 2010.

With so much indoor time lately we need some good winter activities.  The bean box has provided much sensory entertainment.  This Rubbermaid container holds about two inches deep worth of Pinto beans (maybe 8 pounds?)  I also store a few scoopers and little toys in the beans.
Fun Sensory Activities for the Bean Box
Well, as you can see from the picture, sometimes the kids climb into the box.
Hide toys in the beans for the kids to find.  Have the kids hide toys.
Bury hands or feet in the beans.
Use cups and spoons to scoop, stir and pour.
Put a big blanket underneath (to catch stray beans) and have the kids scoop all the beans out of the big container into various smaller containers (or toy dump trucks and such.)
Pour the beans out on a blanket and enjoy the sensory experience of pushing around the beans to make roads through them. Add toy cars to drive around in the beans.
Take out a handful of beans and squish them into playdough – such as the mystery playdough in this post about quick set up toddler activities.
If you've got warm weather, try taking a blanket outside and playing with beans on a blanket on the grass.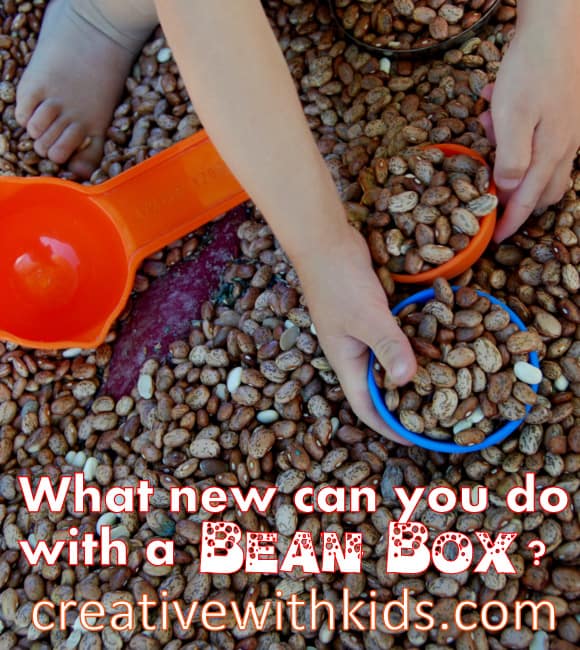 We keep our beans for sensory activities in a big container with lid – but watch out if they get loose.  We've had our fair share of crawling around to pick up beans after a sensory play time; the vacuum doesn't like to suck up too many of them.  I hope you enjoy these activities and get lots of sensory fun out of your own bean box!
64 Positive Things to Say to Kids
Subscribe to the Bounceback Field Notes to Download your FREE printable of 64 Positive Things to Say to Kids
Reader Interactions