Zero to Two: the book of play – big ebook of things to do with babies and toddlers!
Introducing Zero to Two: the book of play !  As a mom, I love finding simple and fun things to do with babies and toddlers, but  don't always love the amount of time it takes to search for ideas.   I am happy to announce that I have collaborated with my favorite kid activity bloggers to create Zero to Two: the book of play!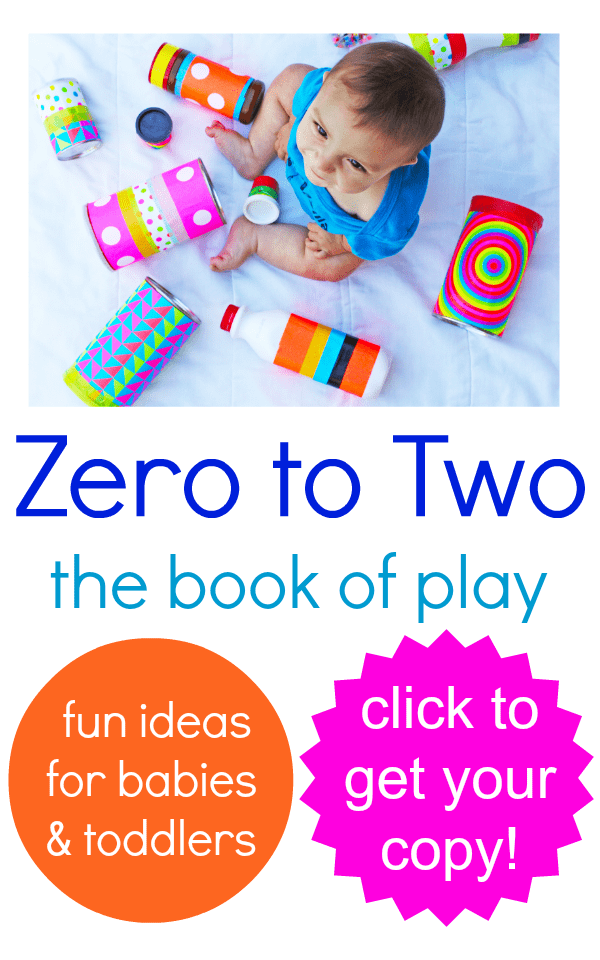 This is a convenient ebook filled with fun and do-able activities to do with babies and toddlers. You won't need tons of time and fancy equipment to do these activities and you can purchase and download your copy of the ebook today.
Buy it now:$8.99
As a mom who has had three babies and gone trough toddler stage with each of them, this has actually always been my most challenging time for finding activities that are doable when I am tired and pressed for setup time.  I love that this resource brings together  playful and practical ideas for these young ages.
Some of the play ideas are downright brilliant; take a look at the quick video to see what kinds of activities are included!
)
Extras
 The ebook includes 
25 different activity areas
, but we've also included a hand-picked collection of links to over 50 more ideas, so the play doesn't stop with the ebook – you'll find many more fun things to do and never be bored.
On top of that, we've included a couple of freebie printables: a sweet set of puppets for play and singing, and some printable family stroller cards.
Instantly Purchase and Download anywhere in the world!
We are really excited to make available Zero to Two: the book of play.  It's just $8.99 and it's an ebook, so you get can download the digital file immediately.  It is delivered as a PDF – you do not need a Kindle to be able to read it.
You can buy the ebook anywhere in the world, and Paypal will take care of the currency conversion.
Purchase it on any device, and then download it when you are ready. Depending on the apps you have installed and your operating system you might be able to download the ebook on your mobile device, but if you have any doubts or problems, I recommend you use a computer to download.  Apple iPad/iPhone/iPod Touch users: be sure to read the download instructions that come with the e-book download link.
You can read the book on screen or print it out. Some people print the entire book, others like to choose one activity at a time to print and try.
Ready to enjoy playtime with your babies and toddlers?  Buy your copy today!
Buy it now: $8.99
64 Positive Things to Say to Kids
Subscribe to Download your FREE printable of 64 Positive Things to Say to Kids
Reader Interactions