The 4-6 Year Olds Must Do List
All the most fun activities for 4-6 year olds filled with simple ideas about how to make the most of your time with your young kiddos.
I don't want to look up one day and realize I missed out on the fun parts of parenting young children, but with the chaos that often is part of this time I also need our activities to be simple, and I need them to work. This is why, with help from my readers, I made this list of the activities that are the most fun for kids in about the four to six year age range – to let us focus on doing the things together that we'll really love at this age.
The lovely part about reading all of these is it really does make you excited about the things that you can do with your kindergarten-aged kid. This is exactly what we sometimes need – to be re-energized about the FUN parts.
Like the Toddler Years Must-Do List, this is not meant to be a guilt list, just an inspiration list to help us remember what we love about this age. Don't think you have to do everything in order to make great memories with your child; just do the activities that appeal to you.
This list includes some affiliate links, should you purchase through them Bounceback Parenting earns from qualifying purchases.
Play Together
I've got a 5-yr-old myself and am learning that this is a great age for experiencing things together instead of me just instructing and setting experiences up for them.

Creative Family Fun
Laugh Together
Oh–and practical jokes like the pack of gum that snaps your finger when you try to take a piece. My little guy offered people gum for HOURS.

Prickly Mom
Get Outside!
Fly a kite
Point out the Big Dipper… Cassiopeia…Orion – watch for satellites together
Make a sandcastle
Dig for worms
Search for fairies in the garden
Build a snowman
Collect rocks
Watch bugs
My kids have this great memory of playing in a giant mud hole in the garden. I let them get muddy from head to toe a couple of times in their underwear. Had to throw them away because sometimes mud doesn't come out, but it was worth it.

Josie
Encourage Exploration – And show how to find out answers to those great questions.
Have an Adventure
Go fishing – you can get a smaller sized pole that works well for preschoolers and kindergartners
Camp out – in your living room, in your back yard or in the middle of the woods
Go for tea and cake
Visit the beach
Try Letterboxing or Geocaching
Go hiking – look for a book on family hikes in your area for ideas
Play in the rain together
Have a picnic
Do a scavenger hunt
Make a treasure map and discover what a long gone pirate left. Take heaps of photos together throughout the year; you could even have photo expeditions around town. Get lots printed and scrapbook them together to create a permanent visual memory. It's also a great way to see the world through your child's eyes.

Liz
Let them fall in love with books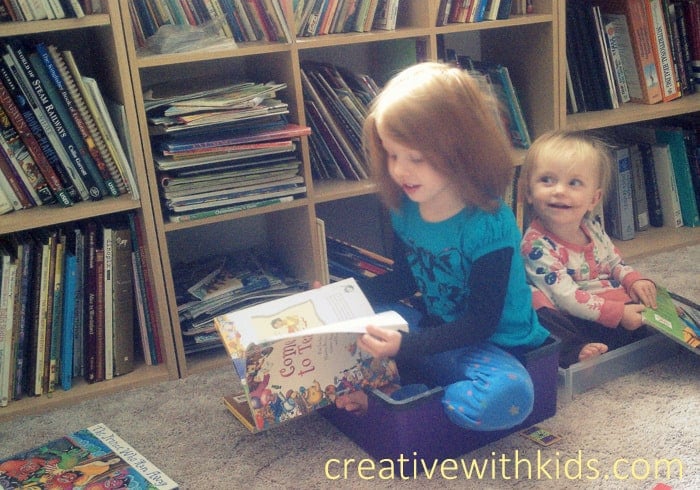 We are doing a lot of word scavenger hunts. One of my favorites was something we did last week – I made a list of foods/items at the grocery store, one for each letter of the alphabet. We took the list to the store, and my son had to first read the word on his list, and then "hunt" for the item. He was so proud of himself every time he got to check off the item he found.

Debra
Learn about being a helper
Give them family chores.
Consider having a pet that you care for together.
Volunteer or donate to the community in a way that's meaningful to a child.
Teach them to save up money for something they want.
Help them delight someone with a gift or handmade card.
Sign up for a short volunteer shift where sorting by colors is involved (clothing drive); take fresh homegrown veggies or flowers to a neighbor, take groceries to a pantry, bake goodies or cook a meal for the local firehouse & deliver; take along bags & help clean up the neighborhood when taking a walk, etc.

Barb
Cook Together
Make and Create
Make a Nature Table.
Color and draw – Make a basic craft kit, so it's easy for your child to be creative.
Paint – watercolors, acrylics, use unusual materials like cars or balls to roll in the paint.
Get lost in building Legos or other building toys.
We spend hours building Lego and recording "commercials" about the sets we create! This is such a fun age!! 

Rhonda
Make Forts – anywhere and everywhere from boxes, trees, blankets, and couch cushions.
Make Fairy Houses in the back yard – We love this Fairy Houses book.
Make a tinker box…. Broken items they could "fix" using real tools. Wood, nails, glue, etc.

Christine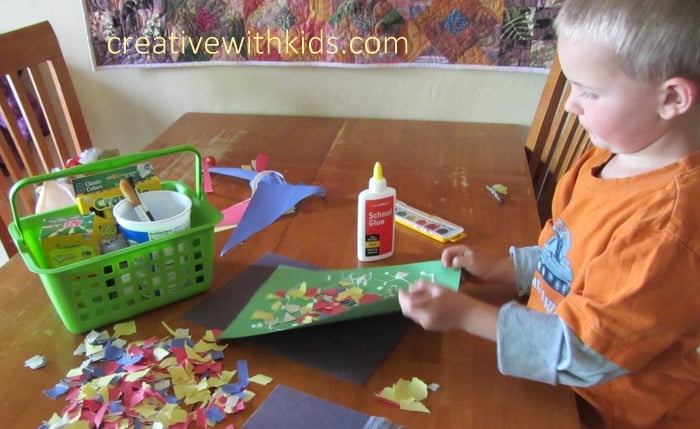 Learn who they are
Make time for one on one time – try a birthday date or taking only one child grocery shopping if possible.
Have conversations at bedtime about anything and everything.
Visit the library, dollar store, or a museum together and see what interests your child.
Record a conversation with your child.
Record them telling you about what they like and who they (we are making a time capsule that he can open when he graduates from high school).

Sarah
Let your child take pictures.
Tell each other lots of stories.
Start a journal with them to draw or write their favorite part of the day, things that concern them and make them happy or sad.
Keep a diary with photos, writing, and drawings…Write what they want to do when they are older and why. Let them tell stories and record it just the way they tell it.

Maretha
And perhaps the most important idea:
So much you can do, follow your heart – talk with him, they have such good ideas. Get lost in play….away in adventures! Just BE with them, that's what they LOVE x

Mairi
More activities for four, five, and six-year-olds:
Types of Learning Activities for 4-6 Year Olds
Younger children in this category are learning how to express their emotions, and they are reaching more and more milestones in their development. So, it is always good to encourage our younger children to explore, discover, create, and learn whenever possible.
Sensory Developmental Activities
These kinds of activities can help improve a child's vocabulary and also encourages hand-eye coordination. By allowing our children to use rolling pins and cookie cutters, play dough, and participate in other hands-on activities, for example, we are allowing them to immerse themselves in these beneficial sensory activities.
These sensory activities can also help them improve their focus, learn more about the sensation of touch, and can help with motor skills, reading skills, and other important skills.
Montessori Activities
Teaching your child a few daily life activities at this age can help them improve their concentration while also teaching them about responsibility and empathy. Activities like caring for a pet, dishwashing, and folding laundry are things they can do in the home with their parents. They can have fun while learning these important life skills.
Indoor Activities
Activities like board games, card games, story time, and dance time should all be on your 4-6 year olds must do list because these activities not only encourage family time and socialization, they also encourage creativity, teach them how to listen to instructions, and can help them refine their problem-solving skills.
Outdoor Activities
Walks, obstacle courses, gardening, riding a bike, and playing catch are all fun outdoor activities that can help a child with their hand-eye coordination, motor skills, and improving their concentration. It also allows them to express their creativity while learning more about observational powers.
Cognitive Activities
For a child to develop their thinking and reasoning skills, cognitive activities can help. From math skills to object association and problem-solving, activities like puzzles, matching, and blocks are ideal for this age range.
Alissa is a resilience coach, cartoonist, and advocate for 'connection, not perfection'. She's dedicated to helping others find a sense of safety and belonging inside themselves so they can heal, connect, and build authentic, joyful lives.